One of the core missions and goals of SIGI is to stress the notion and need of standardization in Historical European Martial Arts. When we say standardization, we mean mostly qualities that must be reproduced in a similar manner with every tool intended for the practice of historical fencing. Those are durability, stress resistance, flexibility and other safety measures. All of these should be bound by great handling which translates into a better fencing experience.
Below you can find the current possible modifications for the SIGI Sabers. You can choose your setup when creating an order through our order form. Alternatively consult the how to order page for information about ordering or the FAQs.
1 Saber blade length
All our saber blades have a uniform length of 86cm / 33.9in. If needed we can shorten the blade length. However, keep in mind that such change (or any change in length) can significantly influence the saber's qualities. Feel free to discuss it and get your price depending on your needs.
2 Blade curvature
The SIGI Saber blades come in two different shapes:
Standard – near straight shape with a noticeable curvature towards the end of the blade (1cm / 0.4in)
Curved – significantly curved blade for a more oriental feeling (5cm / 2in)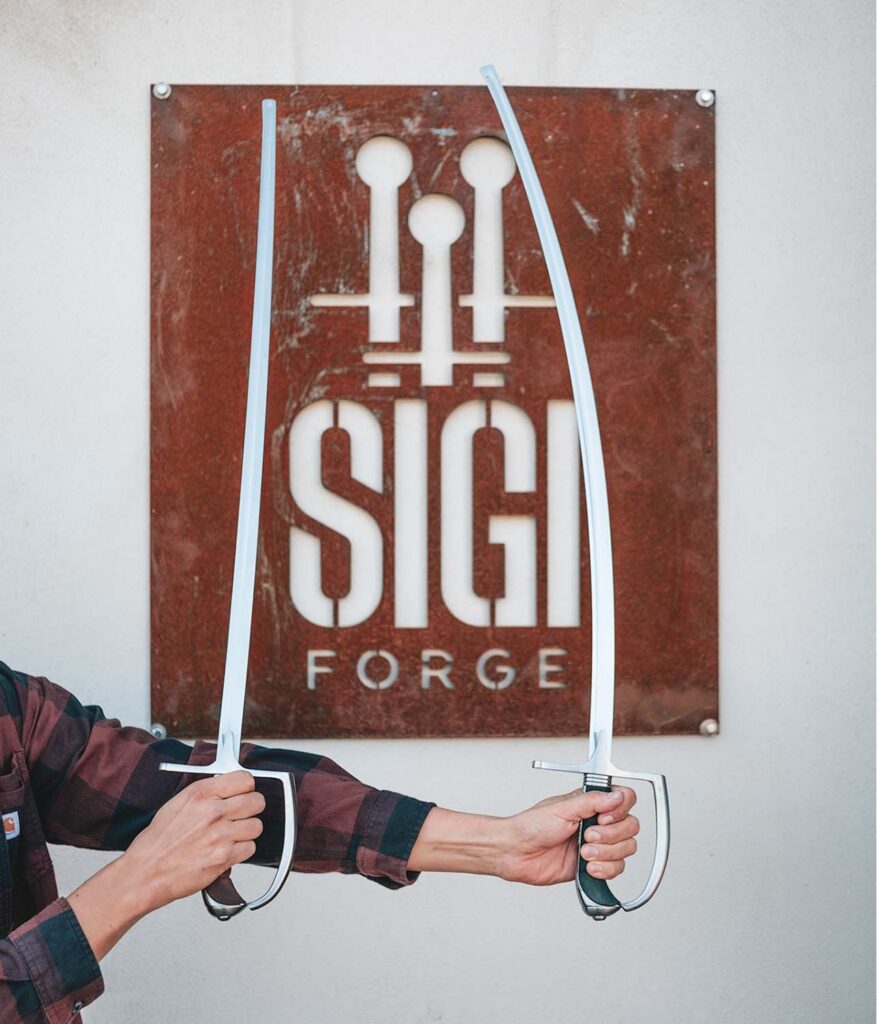 The handling of both is more or less the same. The blade shape is about personal preference. The reach will be slightly affected but not in a significant manner (the difference in reach between the two is 3cm / 1.2in). Choosing one or the other alternative doesn't affect the price.
3 Blade type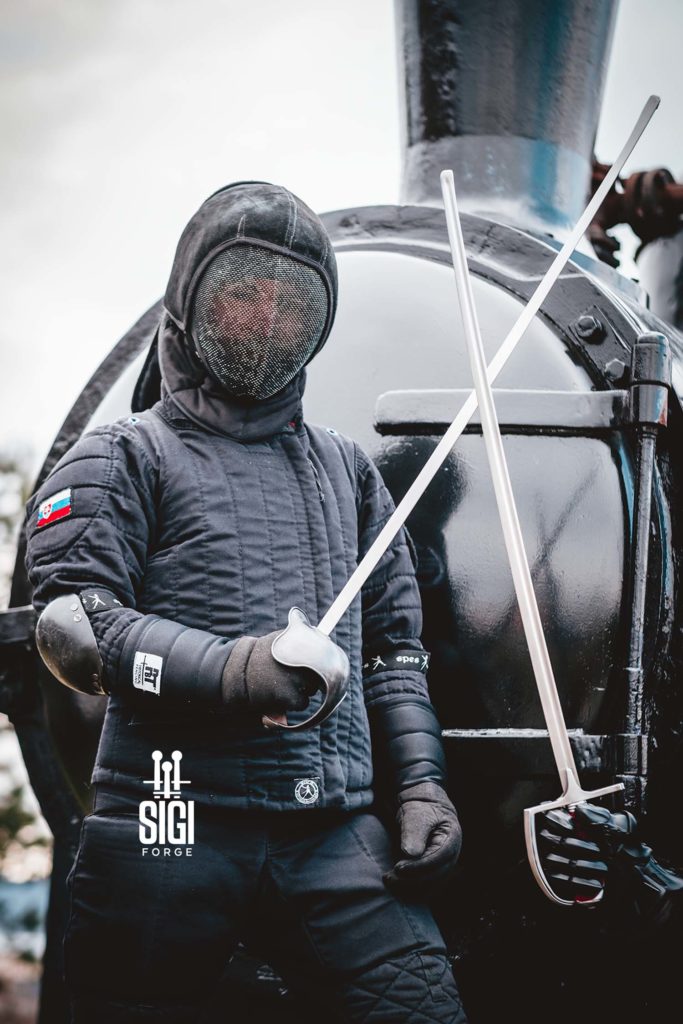 A further customization of the blade allows you to choose between:
Plain blade – stable yet flexible blade designed for peak performance and high durability
Blade with a fuller (+30€) – a fuller takes away extra mass from the blade. It makes it not only lighter, but gives extra character and feel.
Both types are durable and will endure as much stress as you can give it. They are safe for cutting and thrusting and will keep your blade stable in parries.
4 Hilt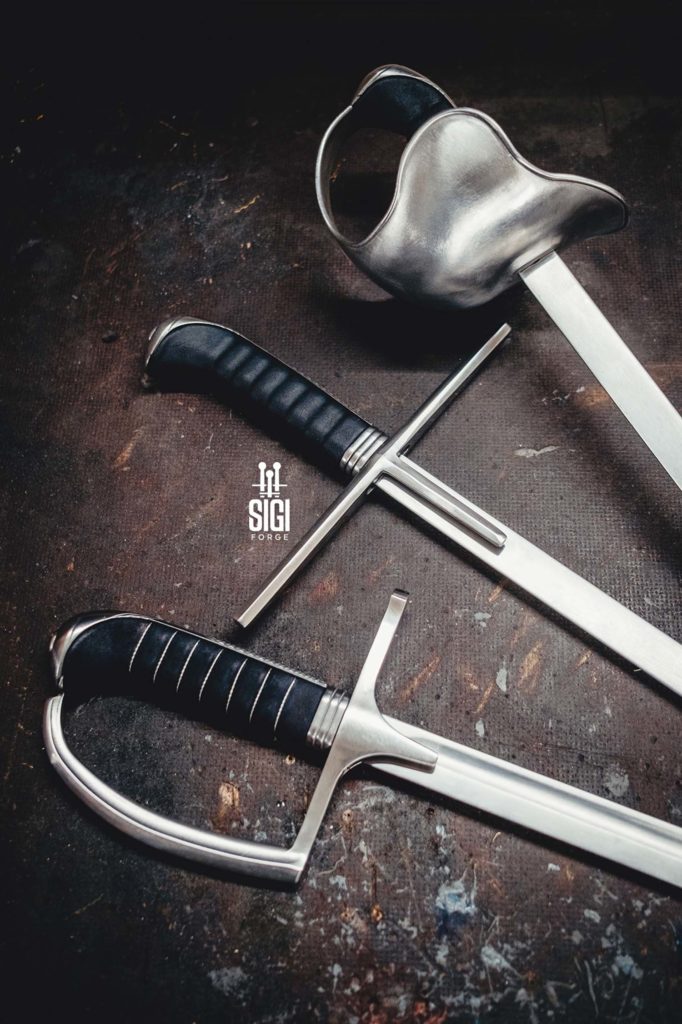 In order to satisfy all needs, we offer three types of hilts:
Saber Basic (300€ in base setup)
Saber Bow (310€ in base setup)
Saber Pro (330€ in base setup)
SIGI Saber Basic is a cross-hilted saber inspired by a typical Central European shape. It's very light, maneuverable and it's intended for people who use thick and large gloves for extra protection.
SIGI Saber Bow is a saber intended for people who want extra protection which is achieved by a stylish knuckle bow. It will fit medium sized thick gloves (SGs, PGs etc.) or any lighter glove (lacrosse, RD etc.). We also offer an XL variant of the Saber Bow which will fit larger gloves.
SIGI Saber Pro is our flagship saber inspired by the English gymnasium sabers. It gives its bearer as much protection as it can whilst keeping the specs at fantastic numbers. It's nimble, great looking and it's intended for people who use lighter gloves to get the maximum out of their saber.
All hilt parts are heat treated for maximum durability.
5 Handle material
All saber models are covered in thick, premium leather. The surface is intentionally left a bit more coarse to create traction. With time and use, it will become polished but should retain its anti slippery properties (bolstered by the special anti-slip back of the hilt).
6 Handle colors
SIGI Sabers are available in the following colours:
Black
Brown
Red
Blue
Light blue
Green
Please note that with use the colours will turn to a darker shade.
7 Handle extra
Another option that not only increases traction but adds charisma and personality to your saber is decorative wire wrap around the leather. The wire is inserted into the space between the handle ribs. The price of this extra is 20€.
8 Hilt coating
If you were looking to customize your saber further we can offer you the option to decorate your hilt with a golden-like surface or blacken it. The golden-like surface is achieved by applying a special alloy for several hours which is also used in coating industrial drills etc (the blackening is a similar process). They are extremely durable and will retain their great looks for a long time.

You can choose between the following:
Golden coating Saber Basic – 100€
Golden coating Saber Bow – 120€
Golden coating Saber Pro – 150€
Black coating Saber Basic – 60€
Black coating Saber Bow – 80€
Black coating Saber Pro – 100€
All the hilt parts (crossguard /cup, ring, back anti-slip piece and the screw) are coated. Coating also adds extra rust protection.
Further notes
SIGI Sabers have a standardized spatulated tip. The tip is safe for cutting and thrusting and can't be changed.
The flex is also standardized according to current tournament norms to approximately 10 kg / 22 lbs.
SIGI Sabers are screwed and all parts are interchangeable. You can use any blade with any hilt parts.
If you need anything else or haven't found what you were looking for please PM us through social media (facebook, instagram) or send us an email to sigi@sigiforge.com.