One of the core missions and goals of SIGI is to stress the notion and need of standardization in Historical European Martial Arts. When we say standardization, we mean mostly qualities that must be reproduced in a similar manner with every tool intended for the practice of historical fencing. Those are durability, stress resistance, flexibility and other safety measures. All of these should be bound by great handling which translates into a better fencing experience.
Below you can find the current possible combinations for our products. Please, check our Product line where you can find finished swords if they suit your needs along with the How to order page which describes the most typical customization options. If you want to create a special combination, feel free to continue reading.
Feders
1. Sword length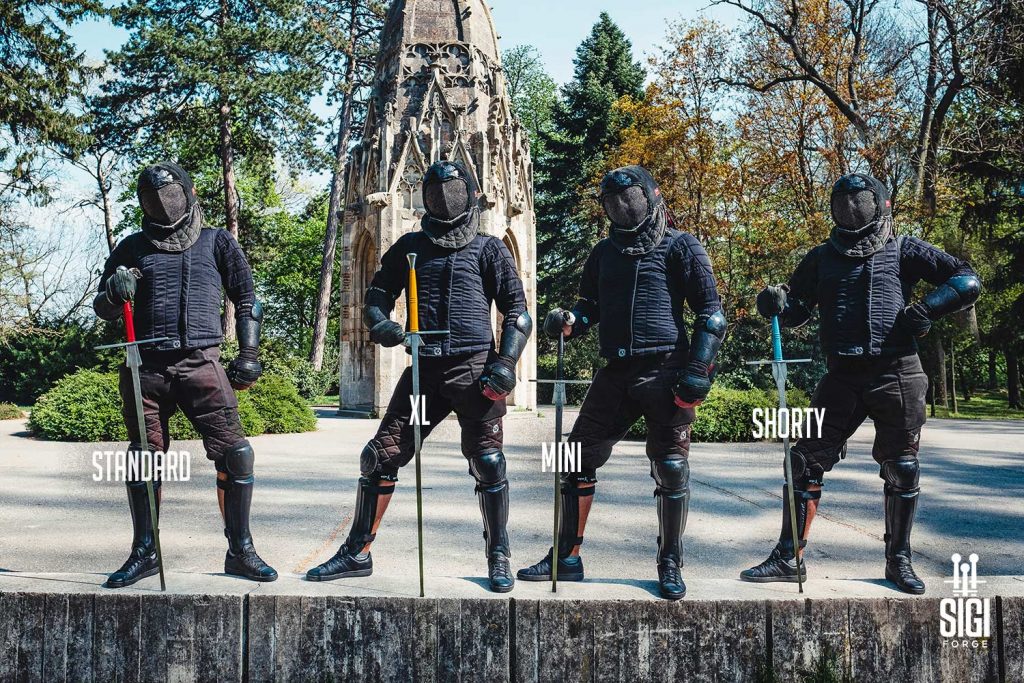 We can create sword blades in 4 different lengths:
Standard– total length of 135 cm (53.1 in), approx. 1600g (3.5 lbs)
Shorty – total length of 125 cm (49.2 in), approx. 1500g (3.3 lbs)
Mini – total length of 115 cm (45.3 in), approx. 1400g (3 lbs)
XL – total length of 140 cm (55.1 in), approx. 1700g (3.7 lbs)
The blade being:
Standard – 101 cm (39.8 in)
Shorty – 96 cm (37.8 in)
Mini – 86 cm (33.8 in)
XL – 105 cm (41.3 in)
The handle length is as follows:
Mini and Shorty – 22 cm (8.7 in) handle without pommel
Standard and XL – 26 cm (10.2 in) handle without pommel
Our pommels are 5-7 cm long (2 – 2.75 in). Most are 7 cm (2.75 in).
Before choosing your length please consult your club instructors or tournaments rulesets that are in effect in your area. Our swords reflect the most typical lengths of training/tournament swords in most of Europe.
2. Schilt types
In HEMA, the word Schilt or Shield (or sometime a "ricasso" is used to describe the wider blade area which follows the cross and appears on swords to protect fingers of their users by redirecting.
We offer 4 different kinds of Schilts:
Normal – like the SIGI Feder, SIGI Shorty or SIGI XL
Concept – like the SIGI Concept or SIGI Lichty – for a more sword-like feeling. All hits slide directly to the cross.
Maestro – Inspired by historical specimen, a tall but narrow schilt
Schilt-less – without the Schilt, imitating a typical sword but with qualities of a Feder
With the Normal schilt, you can also ask for us to make the decorative holes in it (or leave it pure, without the holes (no extra charge, both are an option).
3. Blade flexibility
All of our feder blades have a standardized amount of flex, check the product description of your chosen product
For illustration, flex ranges from approx. 12.5kg (longswords) to 13-14kg (one handed swords/katanas)
The flexibility is meant to be safe for thrusting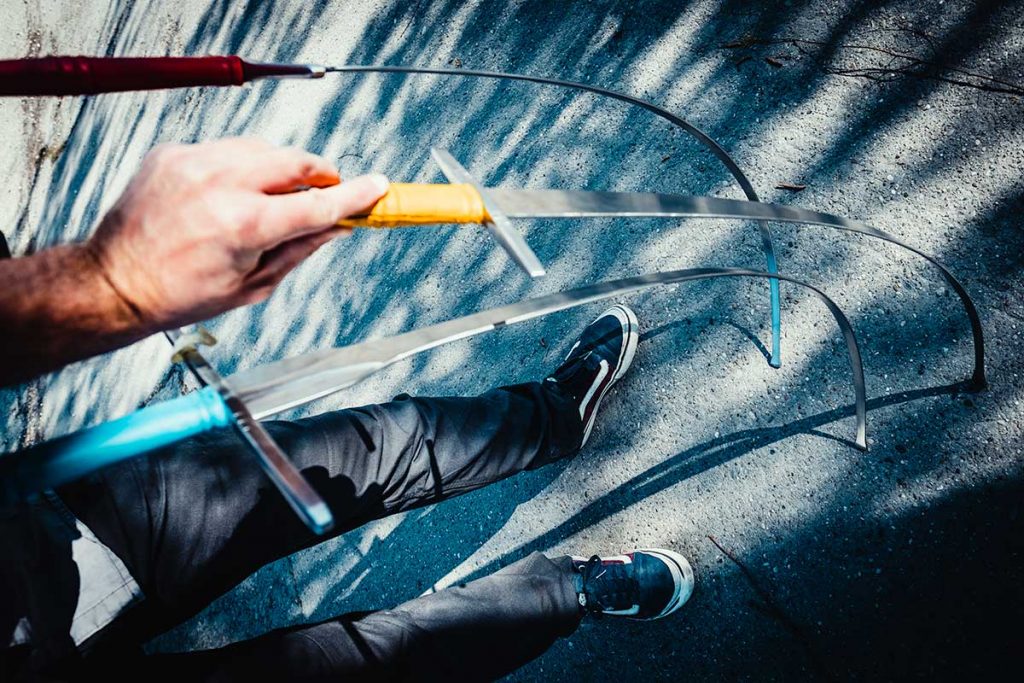 4. Crossguards
We offer 3 types of crossguards for all feders:
Basic or default – elegant, simple, safe and fully hardened
Octagonal crossguard – eight sided crossguard with decorative notches towards the end of the quillons. Default for the King and Gothic models, extra with the others. Fully hardened and durable.
Castillon crossguard – inspired by the surviving swords found near Castillon, this round crossguard features two balls at the end of it, offering +10 charisma. Fully hardened and durable.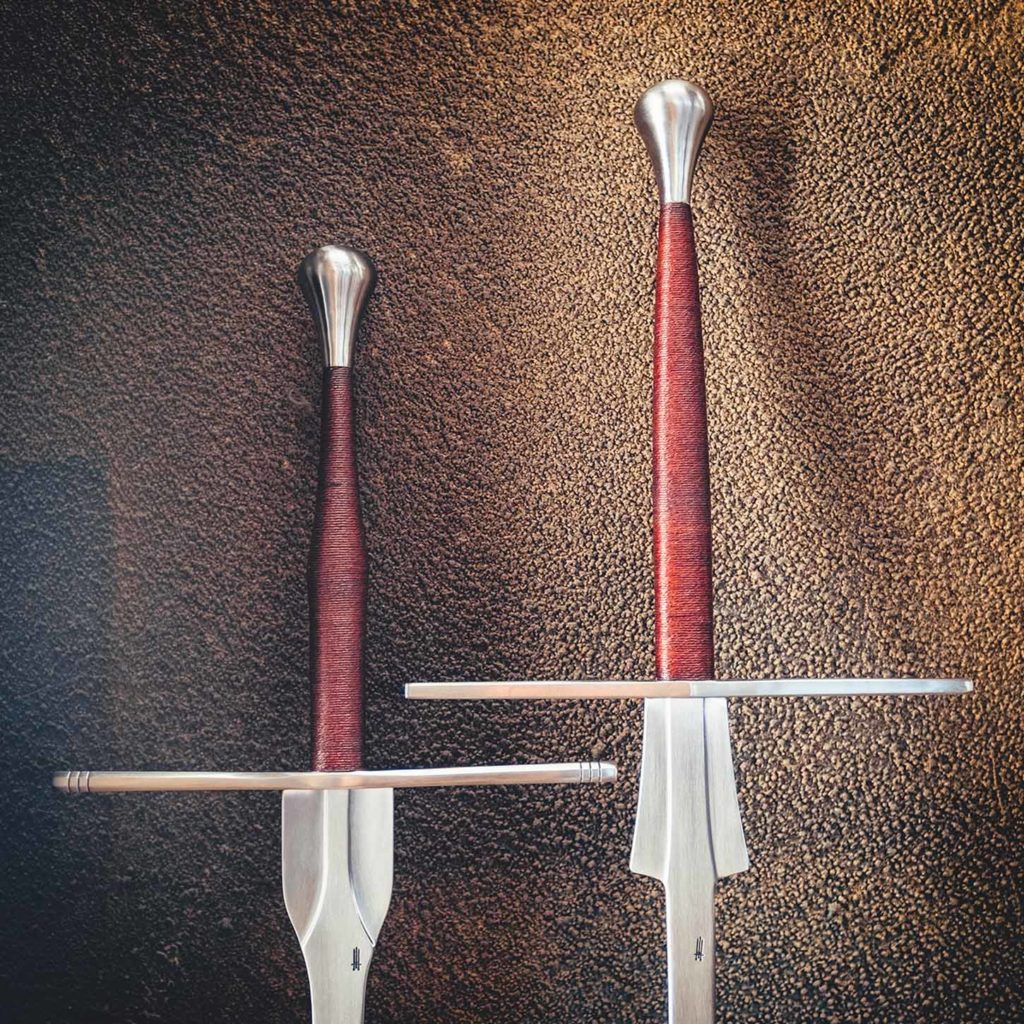 All our crossguards are made in two lengths – 28cm or 30cm. The normal length crossguard (28cm) is a regular sized cross with adequate protection. A longer crossguard will provide its bearer with effective boost in defense and some of the sword's properties. This decision is up to you, but we would suggest the following:
Normal– 28cm, suitable for swords in all sizes, but mainly the Mini and Shorty size
Longer– 30cm, perfect for Standard and XL length
Occasionally we're asked to shorten crossguards even more but please keep in mind using a shorter cross will dampen its protective effect.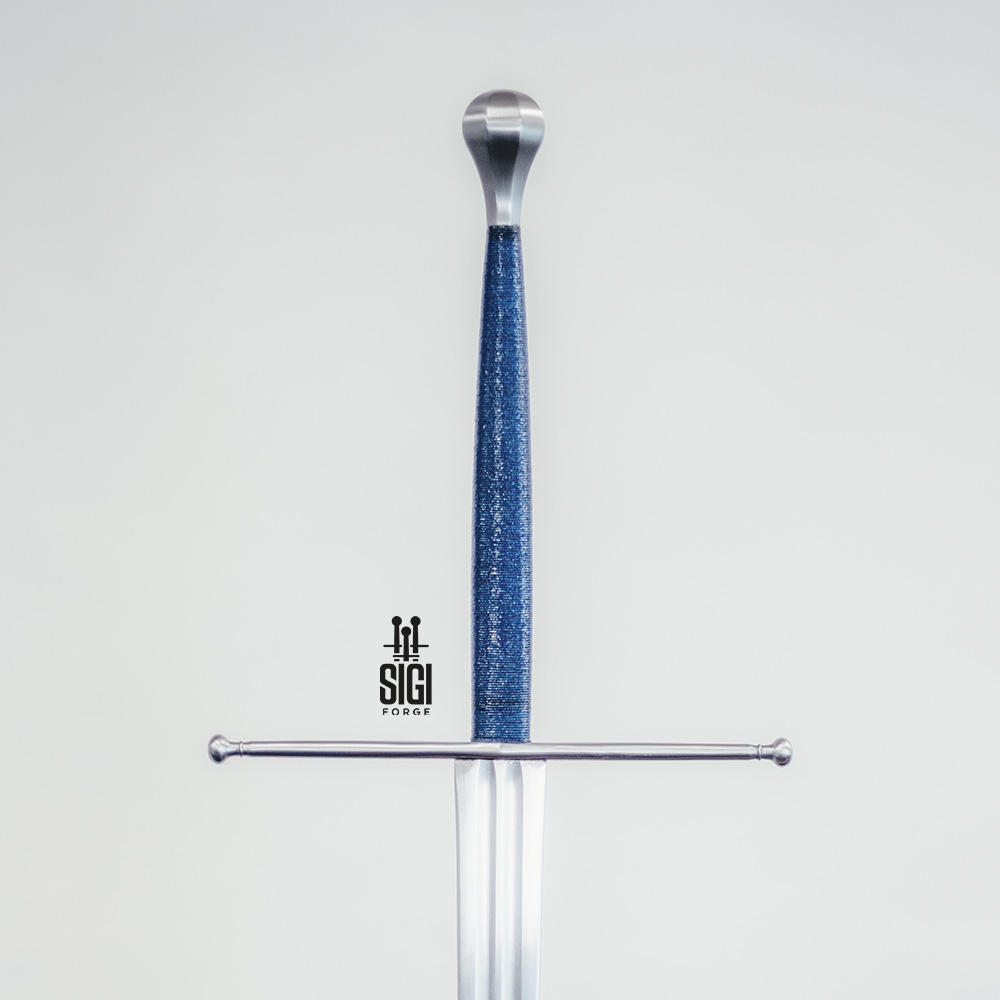 Furthermore, you can ask for:
Rings on your crossguard – you can ask for one or two (+20€ per ring)
Rings are currently available only with the Basic crossguard. Please keep in mind that one ring adds roughly 40-50g of weight to your sword.
5. Handle shape, material and colour
Our handles are available in 2 different shapes:
Regular – Straight handle that has a relatively uniform shape and narrows down to the pommel
Waisted – accented waist in the middle of the handle (+10€)
Furthermore choose between:
Cord grip – 100% natural rope fixated with a special solution to resist impact (default for all swords)
Leather grip – real leather coloured according to available dyes (+40€)
Handle material is a pick between aesthetics, personal preference and pragmatism. A cord grip will resist cuts, aggressive handling and impact better than leather. Leather on the other side looks amazing.
We offer the following colors:
Cord grips: black, brown, green, red, orange, blue, purple, light blue, white/plain
Leather: black, brown, green, red, orange, blue, light blue
NOTE: Please be aware that we are trying to use as many natural materials as we can. Our ropes or leather is coloured in the Forge using natural dyes. Colours might slightly vary from piece to piece due to its nature and other conditions (our photos were taken in different light conditions). Some colors are not available with leather.
6. Pommels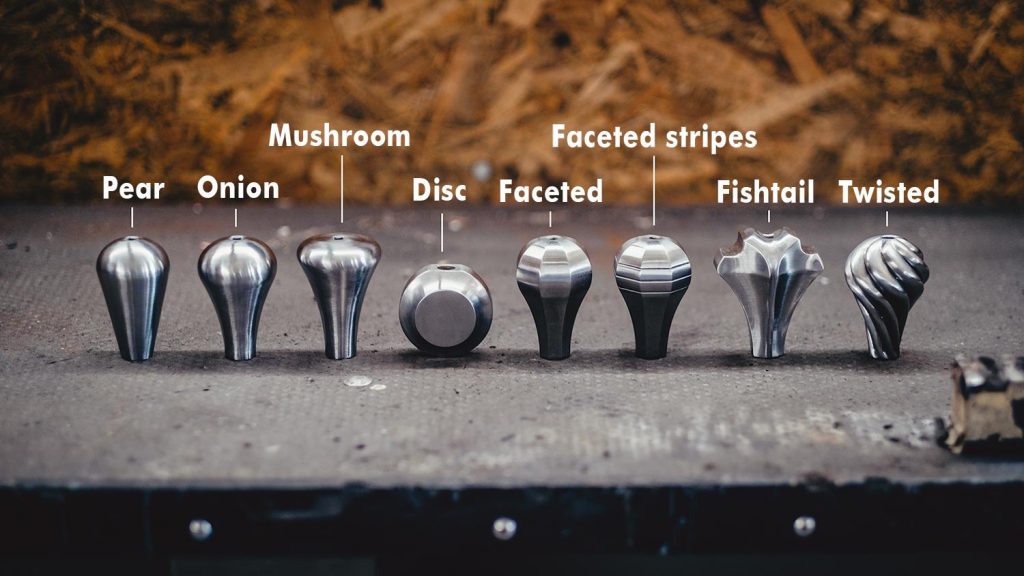 You can choose from the following pommel models:
Pear – basic pear shape, versatile and comfortable to use
Onion – onion-shaped upgrade of the basic pear shape
Mushroom – Great for people who use larger gloves or prefer a "handle grip" to a pommel grip (+10€)
Disc pommel – like the pommel used on our arming swords (+30€)
Faceted pommel – faceted pommel for aesthetic looks (+30€)
Faceted pommel with stripes – decorated faceted pommel for a firmer grip (+40€)
Fishtail – highly aesthetic special pommel shape (+60€)
Twisted – visually attractive complex pommel type (+60€)
7. Sword tip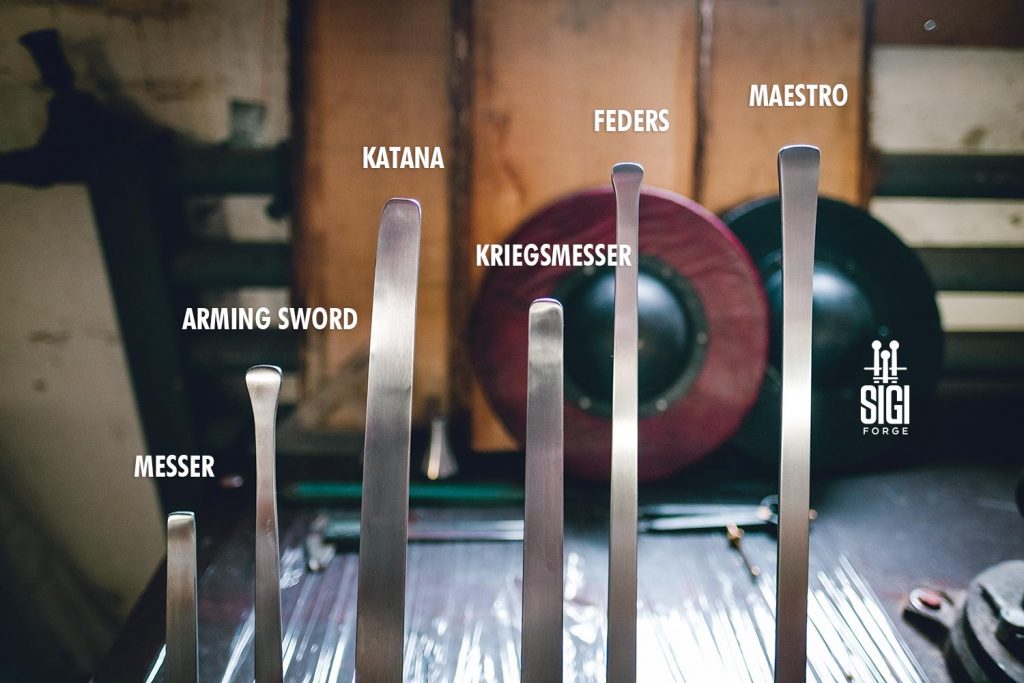 All our feder tips (even for the one handed sword models) are spatulated for better safety and control. The Katana, Messer and Kriegsmesser tips are wider than the edge at the end. Even though we consider our tips safer than small, folded tips, we recommend using additional tape or other protection to ensure maximum safety.
8. Extra – coating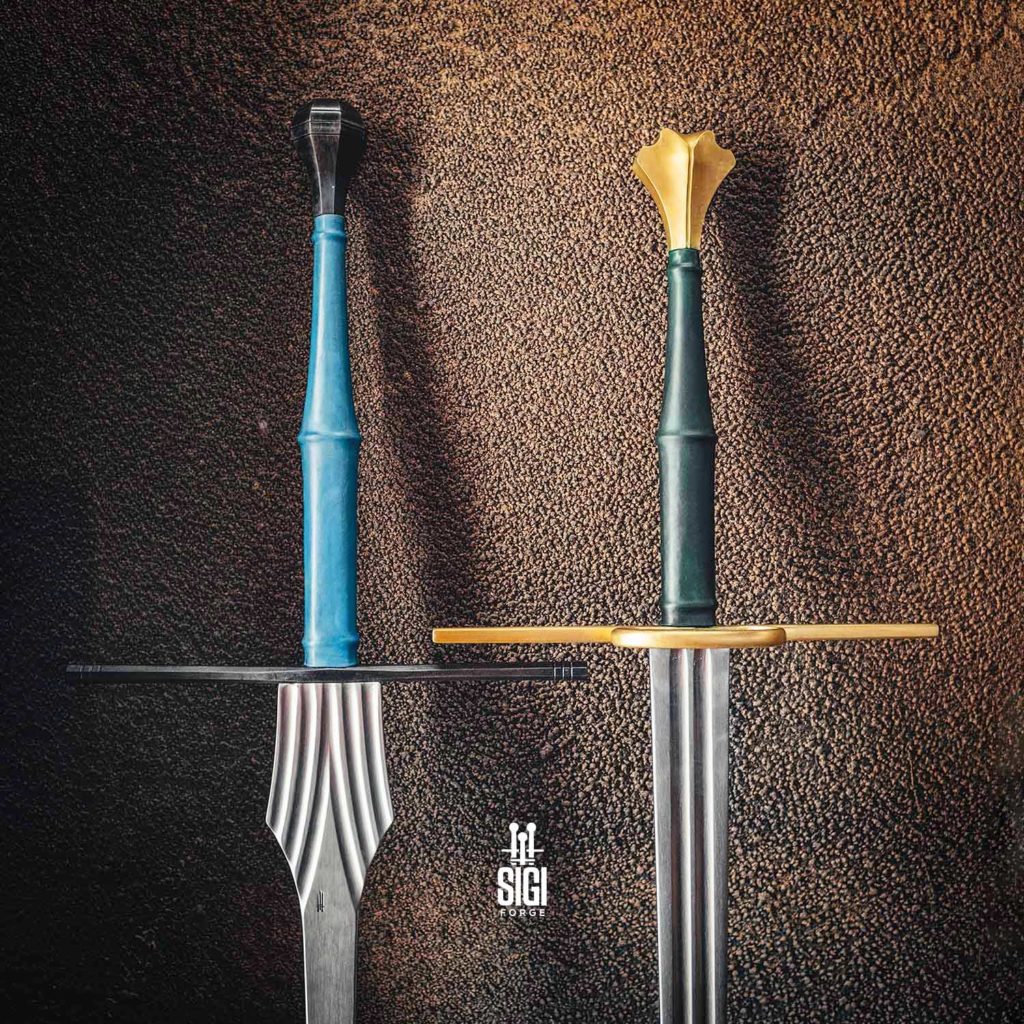 If you were looking to customize your sword further we can offer you an option to decorate your pommel and your crossguard with brassing (or blackening). With brassing we will coat the cross and the pommel in a film of brass which will give the feder, katana, arming sword or any other product a unique, recognizable look.
Furthermore, coating your sword with an extra layer creates a protective film that adds rust protection up to a noticeable degree. It doesn't require a lot of care and will make your sword stand out.
Options:
Brassing a pommel or a crossguard only – 50€
Brassing both the pommel and the cross – 100€
Brassing a crossguard with a ring – 20€ per ring
Brassing a tsuba and the kashira of a katana – 100€
Brassing a messer – 100€
Blackening a pommel or a crossguard only – 50€
Blackening both the pommel and the cross – 100€
Blackening a crossguard with a ring – 20€ per ring
Please note: Brassing is susceptible to wear and tear. Direct cuts or scratches may be visible after heavy use though with good care it will keep its looks for years.
Please consult us to get the best experience out of our swords.